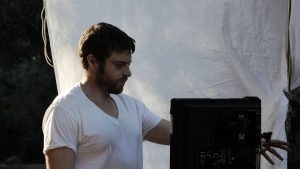 Neil Stevens is an actor, writer, and director currently living in Los Angeles. He grew up with a healthy obsession of the John Carpenter and The Twilight Zone. Especially that episode where the kid turns his Uncle into a Jack-in-the-Box.
He has acted, written, and directed several short films such as "Break Room Chatter" and "Search History" which screened at the San Diego Film Festival. He wrote and acted in a one act play "Sex Less" which ran for three weekends at a theater in Los Angeles.
He recently completed a new film "Lure" which is currently being submitted to film festivals. He also is in post production on a horror short called The Clapper, which is a horror film about, well, you guessed it.